My flight from Heathrow was due to leave at 8.30am so I was at the airport for 6am. This was a great time to drive through London; the city was not yet fully awake; the only activity seemed to be from birds and bin men. The calm I saw from the window of my black cab was at complete odds with the excitement I felt.                                              
It was my first time flying United Airlines. It was hopefully my last time, too. The flight was packed, the seats were cramped (I was in a middle seat, no-one likes the middle seat) and the service was terrible. The journey across the Atlantic felt a lot longer than eight hours. 
I had a couple of hours' stopover in Newark, New Jersey before a second flight onto Nashville, Tennessee. From the windows of the airport bar, you can see the big cranes that Tony Soprano drives by in the opening sequences to The Sopranos. If I'd had more time, I would have paid a visit to the Ba Da Bing Club  but 'what you gonna do?' (shrugs shoulders).  
I chatted with a local who was flying off to Florida. When he heard my accent, he shook me by my hand: "Da Bridish are the only ones of our so called 'partners' who have always stood by us." He then proceeded to slag off most of the European Union and a few other countries. On behalf of the nation, I gracefully accepted his commendations as though I were personally responsible for British foreign policy for the last hundred years. "Yes, we've always stood together," I said, piously. He thought about that for a second, and said: "Well, there is the little matter of the Revolutionary War but we won't go into that." No, let's not, I thought.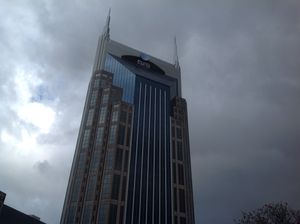 The Batman Building, Nashville TN
I arrived in Nashville at 6.30pm local time but my body was telling me it was half past midnight. I was greeted by two beautiful Southern belles – Sonya and Donna. I had met Sonya on my visit to Nashville a year earlier and she had kindly offered me accommodation at her swanky city central apartment should I ever visit Music City again. These girls like to party but first of all they whisked me off to dinner in downtown Nashville. I'd been to Puckett's before so I was very wary of the portions that would be served up. They didn't disappoint – my plate of Southern fried chicken could have fed a family of four. 
From there it was a short walk down to Broadway; the girls had some friends playing a bar called Honky Tonk Central. Downtown Nashville – especially Broadway – is a party town on a Friday night. I was content to sit back and watch the amazing musicianship on display. And there are so many great musicians in Nashville – drawn from all over the US.  
The music in Nashville starts at 10am and runs till 2am. Bands work in four-hour shifts; the first band will play from 10am – 2pm; the second from 2pm – 6pm; the third from 6pm – 10pm; the last band from 10pm – 2am. I spoke to a bass player who told me he'd done eight gigs in four days – that's two gigs a night!  Two of the gigs were consecutive, so he had to hotfoot it from one venue to the next; fortunately, all the venues have a house bass rig so all he had to do was pack up his bass… and run!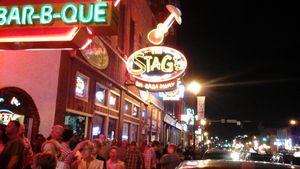 Broadway, Nashville TN
I had elected not to travel with a guitar but to buy one in Nashville; there are many music shops to choose from.
For no other reason than it was the only one open on a Sunday (and I missed not having a guitar to hand, feeling I couldn't wait till Monday!) I went to The Guitar Center (their spelling, not mine!). A sales assistant named Barrett treated me like I was the most important person in the world. I had a suspicion that I was not leaving the building until he had sold me a guitar. He sat me down in a soundproofed booth and brought me guitars that were in - and just above, I noticed - my price range. I tried Martins, Taylors and Gibsons. I must have tried a dozen or more. I narrowed it down to two Martins. At one point, a young lad came in and started jamming along with me; no matter what I played, he played along. Even when I played my own songs, he played along. He never said a word – or even looked at me – he just played guitar; it was like something from Deliverance! His father was standing nearby. He smiled at me and shrugged his shoulders in a half-proud, half-embarrassed way.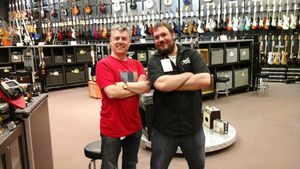 Brandon from The Guitar Center
I was surprised at my own choice of guitar. I'm normally a cedar-top, jumbo-sized kind of guy but there I was paying for a small-bodied, mahogany-top Martin 000.15M. 
This particular model came without electrics included so I needed a have a pickup fitted to it. Barrett swore that a Fishman Matrix was the best to have. It did not escape my notice that it was also the most expensive in stock. While guitar tech Taylor fitted it, I looked around the store. 
A grizzly, old – and, quite frankly – barking mad, ex-roadie heard my accent and struck up a conversation with me. Well – he talked at me! At the end of a rambling anecdote that involved him, Ozzy Osbourne, a vacuum cleaner and some hookers, he offered to tour with me – and also to send me a gun – piece by piece – back to England,  so I could "take out any 'mofos' who want to mess with you and yours." I declined both offers. 
I called in at a nearby bar for a celebratory beer. I had intended to call a cab after one drink but I got talking to an elderly couple called Larry and Beth and ended up staying for hours. And in an act of altruism that was to repeat itself again and again in the coming months, they offered to drive me home. I later looked up on a map where they lived and realised that they went way out of their way to show kindness to someone they had only just met. 
When I got back to my apartment, I took my newly-acquired Martin guitar from its case and played it until my fingers ached. I fell in love with that guitar that evening – a love affair that continues to this day.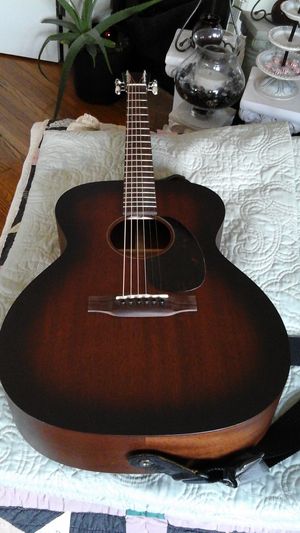 The Martin Guitar