It was three days before I felt like I was on Tennessee time. This was just in time for my slot at the famous Bluebird Cafe.  
I could have taken a cab directly to the Bluebird but I took a bus instead. I like buses. Buses show you much more of a city than cabs can. Cabs go direct; buses go where the people who do all the work live. Cities are the same the world over. On the margins, you will find disadvantaged communities, where the rest of society doesn't go. I have walked at night through rough areas of London, New York, Belfast and Moscow; the secret is to not look like a tourist or a victim  –  just a working guy making their way home. What you don't want to do, however, is get off at the wrong stop and start walking the wrong way. And walk a long way, the wrong way. In new shoes. Carrying a guitar. Under a blazing sun.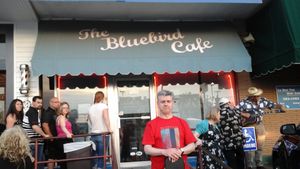 The Bluebird Cafe, Nashville TN
I walked for several miles down a road called Hillsboro Pike through a leafy suburb named Forest Hills, thinking that sooner or later the Bluebird Café would appear on the horizon. It didn't. 
At a junction, I flagged down a guy in a pick-up truck and asked if I was heading in the right direction for the Bluebird Café. He pointed behind him to the way that both he and I had come and said: "It's a couple of miles back that way, sir." I thanked him and he drove off. I sat down by the side of the road. I wanted to cry. I wanted to cry because I would miss my slot at the Café. I wanted to cry because I was hot, tired and thirsty. Most of all I wanted to cry because my feet were bloody killing me, with both my heels bleeding.                                                             
As I sat there with my eyes closed, a voice said: "Hey how 'bout I give you a ride?" I opened my eyes. It was the guy in the pick-up truck. Somewhere down the road he had turned his vehicle around and had come back to find me. 
His name was Brad; he was on his way home from work. He said that his momma would never forgive him if he had passed up the chance to help out someone who was in need. I mentally thanked Brad's momma and her diligent parenting skills. 
Brad dropped me right outside the Bluebird Café. For the second time in two days, I marvelled at Southern hospitality. 
The Bluebird is a very intimate venue with a listening audience. It is widely known as the venue where Garth Brooks was discovered. More recently, it has been featured in the US TV drama Nashville. Its new celebrity status is having an effect. Tourists are turning up, not so much for the music but hoping to see members of the cast  (I'm reliably informed the TV studio have built a replica Bluebird set on a soundstage out of town). 
It would be a shame if this revered venue – the cafe's motto is "shhhhhhhhh" –turned into something like the Hard Rock Cafe. I would hate it if the respect shown to songwriters was diminished by a TV show that at its heart has some fantastic songs. 
When I went on stage and said "hello" and not "hi", there was a quiet "ooh". I introduced myself as coming from England and being very happy to be in the home of songwriting. I had decided to debut a new song called Nashville State of Mind that I had written after my trip to Music City last year. It was very well-received. 
I took a cab home. 
I had been invited by talented singer-songwriter Annemarie Picerno to play at the Spring Fling Festival at Smitty's Bar and Grill in the town of Lebanon about 30 miles east of Nashville. It was something of a shock when I walked in; I was the only male in the place who wasn't sporting either a Stetson, bandana, beard, tattoos, cowboy boots or a mixture of all five. If you remember the scene in 48 Hours where Eddie Murphy walks in to a redneck bar, you'll know how I felt.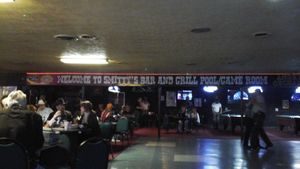 Smitty's Bar & Grill, Lebanon TN
Once on stage, my English accent silenced the crowd. I thought it best to flag up my Irish ancestryand explain the reason for writing the song I was about to play called Restless Celtic Heart. I had prepared a whole speech about how the Irish had brought their folk music across the Atlantic Ocean with them in the 19th century and how America had developed it into bluegrass and how eventually it became country music. But nerves somehow got the better of me and I blurted out "the Irish invented country music." There was absolute silence in the room, and bewilderment on many of the faces looking my way. As I contemplated trying to make a run for it, an old man with a more than passing resemblance to Western movie stalwart Walter Brennan stood up and started clapping. "Yes, sir-ee," he said. Pretty soon others joined in, until the whole room was whooping and hollering. I started the song which has a sort of Johnny-Cash-goes-Celtic vibe to it and pretty soon the whole room was clapping and singing along. 
I reminded myself that the clientele in Smitty's were no different to the people I used to play to in the working men's clubs back home where I cut my musical teeth as a young man; ordinary people looking to be entertained after a hard week's work. I chastised myself for my initial fears. Some very good musicians came up and complimented me on my performance.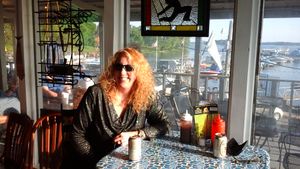 Annemarie Picerno
On the way back to Nashville, Annemarie suggested we call in at Papa Turney's Smokehouse Restaurant in nearby Hermitage. The barbecued ribs were reputedly the best in the state. There was also a blues jam going on. The house band led by Kevin William Ball was as good as the ribs. Papa Turney himself turned out to be as good with a guitar as he was with a cooking pan. Annemarie got up and belted out some old blues tunes. She has a powerful voice and is a consummate professional. 
When the band heard that there was an English musician in the house they were keen to get me up to perform. Now, I am no blues player but I have a couple of blues songs in my musical arsenal that I keep tucked away for just such an occasion. Kevin kindly lent me his lovely old Gibson semi-acoustic. I joked with the audience that I had travelled 4,000 miles just to play at this jam. I sang and played the Ray Charles / Joe Cocker classic Unchain My Heart, and the blues standard Before You Accuse Me. The crowd loved it and there were high-fives all-round from the band. 
As great as the shows at Smitty's and Papa Turney's were, the gig I was most looking forward to was my slot at the Commodore back in Nashville. It's a regular hang-out for Nashville songwriters so I knew there would be a few in the audience. Plus, many of my Music City friends had never seen me performing my own material, so there was a lot riding on this particular show. I kicked off with Nobody from Songs From the Last Chance Saloon, which had served me so well in the past. I was also keen to perform Nashville State of Mind because The Commodore is mentioned in the lyrics.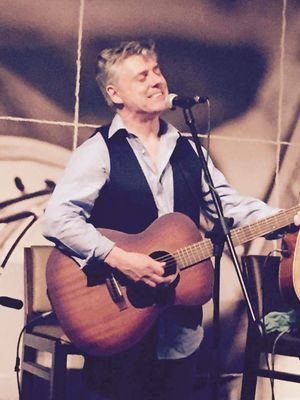 The Commodore, Nashville TN
After my set, I received lots of good comments from members of the audience. It's always good to get positive feedback from the crowd but, knowing the standard of talent in that town, it felt doubly important. Comments such as "great songs," "very professional" and "good stage presence" were all gratefully accepted but my favourite was from songwriter Tucker Bouler who said of Nashville State of Mind: "You nailed that one, brother!" 
I finished off my stint in the Tennessee capital with an impromptu performance with the house band down at Tootsie's. The bar is famous for being where Hank Williams Sr would sneak across the alley from the Ryman Auditorium whilst playing at the Grand Ole Opry, and where Willie Nelson sold the rights to his song Crazy to pay his bar bill. All the kings and queens of country music have frequented Tootsie's. In honour of Hank I sang a rocked-up version of Your Cheating Heart, and because I wanted to sing an English song, Honky Tonk Woman. 
I had enjoyed my time in Nashville immensely; the kindness of strangers and the warmth of friends, but it was time to move on and see some new places. I was looking forward to visiting Chicago and St. Louis. After that there was Kansas City and Omaha. Further down the line there would be Des Moines, Colorado Springs, Phoenix, Amarillo, Dallas and others. My American Odyssey was at last underway.