If there is any place in the US that I could claim as my home, it is Kansas City, Missouri. Every time I visit the US, some time is pencilled in both to perform and hang out with the good friends that I have made there. But as I drove west out of St. Louis in June of 2015, I knew nothing about Kansas City other than that the Beatles covered a song titled Kansas City on their 1964 album Beatles for Sale. And I knew that there are two Kansas Cities – one in the state of Missouri (the one where I was playing) and another in the state of Kansas. The two are (mostly) separated by the great Missouri River. I was warned not to get on stage and say "Hello Kansas" – I was in Kansas City, Missouri.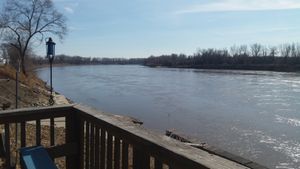 The Missouri River - The Big Muddy                                                                         
The Missouri River eventually flows into the Mississippi, but for over 2,000 miles it is very much its own entity, starting its journey in the Rocky Mountains in Montana. There is a scene in one of my favourite Clint Eastwood films, The Outlaw Josey Wales, where the river has a starring role. I pulled over to contemplate the importance of this body of water and tried to put myself in the place of explorers such as Lewis and Clark and tried to imagine how they must have felt when they first traversed its length. In later visits I would get to canoe down the 'Big Muddy', in my head, re-enacting scenes from Last of the Mohicans. I find it hard not to jump on to the bank, kneel down to look at the ground and say: "A Huron war party passed this way, maybe two, three hours ago." 
My Couchsurfing host is a photographer named Matt Mayfield. His address is in an area called the West Bottoms. My satnav took me into an industrial area besides a major hub of train tracks and abandoned warehouses. I pulled up beside one of these warehouses which boasts several floors of a museum dedicated to a 19th Century horror writer. 
My initial instinct was to drive away and find a motel. I am so glad that I didn't as Matt has become a dear and close friend who has got me into all sorts of scrapes in the intervening years.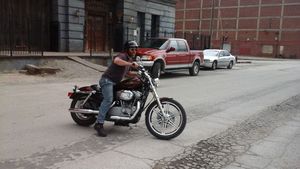 Matt take the Harley out for a spin
Matt lives on the 7th floor of a converted warehouse. The living room is massive. There are four motorbikes in it – one of them is a Harley Davidson, another is a 1970s Honda. There is also a canoe and some guitars. Oh, and some guns. Lots of guns. Coming from the UK this was something of a shock. Matt and his amenable room-mate, Anders, could see my discomfort at seeing so many guns and they tried to reassure me that none of the guns were loaded. Well, apart from the handgun they each keep by their bedside in case of intruders. I made a mental note not to go to the toilet in the middle of the night. 
We went out for drinks. Several drinks in several bars. I later wrote in my diary, 'the bars here never seem to close'. 
The warehouse is located in an industrial area of Kansas City MO. There are train tracks very close by. I was sitting in my room absently doodling on my new guitar, when in the semi-darkness (the sun goes down early and very quickly in the Midwest) I heard a train whistle blowing. It was such an incredibly evocative sound; so American. I wrote a song about trains whistling and rivers flowing. It's called Rambling Days and it's the opening track on the 2017 album American Odyssey. 
My gig in Kansas City MO was at a venue called Davey's Uptown Ramblers Club. As I was setting up, the soundman informed me that Stevie Ray Vaughan once played this room. 
Matt and Anders have put the word out about tonight's gig and I'm pretty sure that between them they know everybody in the room. I think Matt was more nervous than me. 
As it happens, his nervousness was unfounded and the gig went well. I even felt comfortable enough to perform Rambling Days. People came up to buy copies of the Songs From the Last Chance Saloon album. Matt looked pleased that he had introduced his friends to a new artist but confessed that just before I started, he was worried. "What if you'd been shit, man?" 
We celebrated by hitting a few bars on the way home.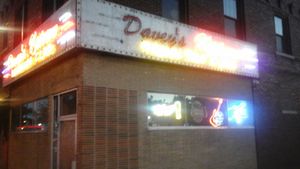 Davey's Uptown Ramblers Club, KC
Kansas City (Missouri, don't forget) has a great musical legacy. During the prohibition era of the late 1920s and early 1930s, political boss Tom Pendergast (an Irishman, I note) allowed alcohol to flow into KC. As far as Tom was concerned, it was as if prohibition wasn't happening; the city was seen as "wide open". And where there was drinking, there was music, and musicians flocked to the city. It was blues-based swing that would eventually be called jazz. For many of the jazz greats such as Count Basie, Duke Ellington and Louis Armstrong, KC was where they honed their talents. Charlie Parker and Charles Mingus would follow in their footsteps, taking jazz in a daring, different direction. I spent a couple of hours in the splendid American Jazz Museum. They have Charlie Parker's saxophone on display;  I stare at it in awe, wondering what events it was a witness to, and was a part of.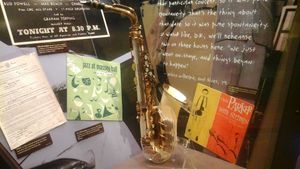 Charlie Parker's Saxophone
Housed in the same building as the Jazz Museum is the Negro Baseball League Museum. It tells the story of a time in US history when black baseball players were not allowed (and in some cases, not wanted) by teams in the major leagues, so they formed their own. This situation only started to change after World War II when it was pointed out how absurd it was that blacks and whites could stand side-by-side to fight and die (to combat racism) but couldn't play sports together. By the mid-1960s there was no longer any need for a separate league. I think it's good that there is a museum like this where the country can come to terms with its own dark past. 
Two floors below the apartment where I'm staying, there is a public attraction dedicated to a well-known American poet, famous for his tales of the macabre. It was closed for the summer but I was told that it is quite a scary walk through, with ghostly noises and theatrical effects such as a blood-spurting guillotine. 
I was returning to the building one evening, and the lift (sorry, elevator) wasn't working, so I took the stairs; the lights were out on the stairwell and unfortunately, I took a wrong turn and wandered deep into this museum of mystery. It was pitch black; I stepped forward, gingerly, for fear of coming to some stairs. It was so hot in there that I immediately started sweating profusely. I had my phone with me, which had a pitiful light on it, but it is all I had. I turned on the light. Close to my face, I saw the contorted skeletal face of a wax woman who has had her throat cut. I let out some choice words that I'm pretty sure the poet, himself, did not use in print. 
Matt's room-mate Anders has the ability to retain an amazing amount of information. I'm pretty sure that when Google doesn't know something, they come to him. Over lunch, he tried to explain about the speed that bullets travel at. Halfway through a sentence that I think contained the words trajectory and ratios, he stopped and looked at my face which was probably looking somewhat blank. He said, "We need to go shooting".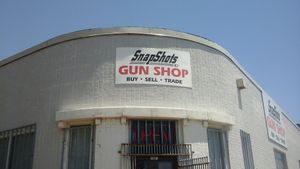 Gun Shop
I accompanied Anders to a gun range. On the way there, we stopped to buy ammunition. In the shop there are more guns than I've ever seen in my life. I listened in to a salesman telling a prospective customer the merits of a certain pistol in the same manner as a washing machine salesman. I balked slightly when the customer revealed he was purchasing the firearm for his 10 year-old daughter; I wondered if it came in pink – my little pistol. 
When the owner of the store heard my accent, he got a kick out of showing me all manner of weapons: an AK47, a Tommy Gun as used by gangsters in the 1930s, and an Uzi. I couldn't resist doing my best Arnold Schwarzenegger impression, saying, "Come with me if you want to live." 
At the gun range, Anders let slip that I have never fired a gun before. The Range Master (he's carrying a pistol just in case someone goes renegade in the range) looked Anders sternly in the eye and said: "I did not hear what you just said." Anders corrected himself: "Tony is very experienced in the use of hand guns." The Rangemaster had one eyebrow raised: "That's what I thought you said." 
We quickly proceeded to the range. 
Anders very carefully instructed me in range etiquette and how to behave around loaded guns. Only when he felt that I was ready did he hand me a gun. 
He deliberately started me off on something small; it's a Ruger Mk II .22 calibre. I aimed at the target, breathed in, breathed out, and gently squeezed the trigger. Despite wearing ear protectors, the noise still startled me, and the kickback surprised me. When I had sufficiently recovered I looked at the target and see it had a hole very close to the bullseye. I fired a further nine times. Nine out of my ten shots were on target. Anders high-fived me: "Way to go," he said. I grinned at my beginner's luck. 
The next gun I shot was a Walther P99 .40 as used by Daniel Craig's James Bond. My jaw tightened as I aimed it. The kickback was substantially more than with the Ruger and I felt my heart racing. My first 10 shots were fairly wild, my second 10 were a little better, and by the third 10 I was getting close to the bullseye. 
We finished the day by firing a replica Colt 45 "Peacemaker" (no one seems to know how it obtained this moniker). Firing one of these was completely different (I really wanted to fire it from the hip!) and my shots were all over the place. 
As with the other two guns, Anders showed me how it was done – and proved he's a very fine shot. I thoroughly enjoyed my time at range, and found the experience very exciting. I'm still not sure, however, that I could fire a gun at another human being; I hope I never have to find out. 
On my last night in Kansas City, Matt took me to a great venue called Knuckleheads, a sort of outdoor club, which has hosted acts such as John Prine and Steve Earle. Despite me having to leave the next day for a gig in Omaha, Nebraska, Matt bought me a ticket to see The Mavericks in Knuckleheads that Saturday night. As he handed me the ticket, he said, "Now, you have to come back to Kansas City." I smiled, too. 
I did go back to Kansas City. I'm still going back.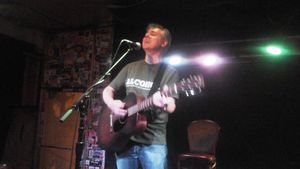 Rambling Days