When travelling across the USA I usually have my Sat Nav set so it avoids going on the Interstate. I prefer the two-lane blacktop and the back roads that take you through small towns because that's where the people are, and hopefully that's where the stories that eventually become songs are, too. 
As I headed north for Omaha, Nebraska in June of 2015 I think the navigational device was annoyed at having to work so hard. It's probably used to saying, "drive straight for 300 miles". At one point, it suggested I take a left turn which would have taken me in to the Missouri River; another time, if I had not questioned it, I would have crossed some rail tracks and gone in to a ditch. 
My route took me briefly in to state of Iowa passing through the town of Hamburg. It seemed rude not to stop for lunch. I had a hamburger.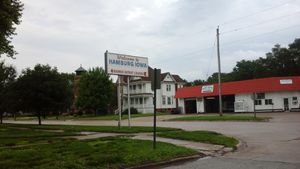 Hamburg, Iowa
The radio station I was listening to issued a tornado warning for southeast Nebraska. I pulled over and consulted my large map of the US to see exactly where I was. I was in southeast Nebraska. The tornado never materialised but rain like I had never experienced before did. I couldn't see the bonnet of the car. I conceded defeat and pulled over until the rain had passed. 
When I reached Omaha, I decided to check out the venue for tomorrow night's gig - the Barley Street Tavern. It's in a once-rough neighbourhood called Benson that was being regenerated. I met the sound man, Dan Quinn. He had just come back from gigging in Ireland and we quickly found common ground. He was also in love with an Italian girl; me too, I said. Not the same girl, I added. 
I was pleased with the venue. The stage was in a room off of the bar but where people in the bar could still see and listen to the act on stage. There were tables and chairs in the music room, a good-sized stage, a good PA system, and Dan sounded like he knew what he was doing. I started to look forward to the gig. 
I spent the next day checking out Omaha. My favourite part of the day was crossing the Bob Kerrey Bridge over the Missouri River, which connects Nebraska and Iowa, and standing with one foot in each state. Four years later the bridge will feature in a song of mine about the Missouri River called Big Muddy.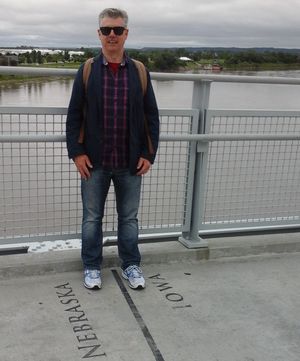 Bob Kerrey's Bridge
I nearly bought a 1969 Yamaha FG10 acoustic guitar in a pawn shop but I decided that it was bad enough trying to get one guitar on to an airplane without putting it in the hold, never mind a second one so I thought better of it. Whilst I was browsing, the storeowner noticed that my wedding ring had a kink in it. He offered to straighten it; he took it over to the jewellery section, tapped out the kink, and polished it, too. How friendly was that? 
First on the bill at the Barley Street Tavern that night was a very large gentleman wearing a straw boater hat. His songs were very long and wordy. There was one that mentioned all 43 US Presidents; it seemed to go on longer than a term in office. At the end of his set, he asked Dan, the soundman, if he can do one more song. Dan pondered on what he has just heard and said, "Have you got a short one?" No, said the portly troubadour, and he slunk off stage. 
I considered my performance to be the best of the tour, so far. It was the first time that I felt as ease playing the Martin guitar (it has a smaller neck than I was used to). I also think that the set list came together that night – which songs to play, in what order, when to tell a story, when to shut up and play the song. I got a great response from the crowd, and sold a lot of albums. Dan immediately played my song Restless Celtic Heart over the PA. "Let me know when you're passing this way again and I'll sort you out some gigs," said Dan. I did – and four years later I would go back to Omaha to play two nights at an Irish bar called The Brazen Head.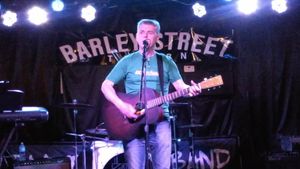 The Barley Street Tavern, Omaha, Nebraska
I was up early the next morning and drove back to Kansas City for a festival called Porchfest. This is held at a neighbourhood near the Missouri-Kansas border where a number of house front porches are given over to bands playing acoustic music. You can wander down a street and hear myriad different genres: classical, jazz, bluegrass, and several different types of country (blues, swing, americana). By the time you come back down the street (pulling your beer trolley behind you) the bands will have changed. The event was well supported by the locals and the hot streets were packed with music lovers. The heat eventually got to me and I retired to a friend's house where the guitars had come out and a jam was in session. It would have been rude not to have joined in.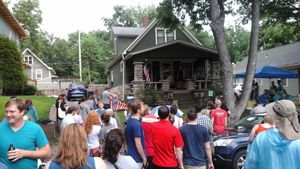 Porchfest - Kansas City
That evening we headed out to Knuckleheads to see The Mavericks. The band consisted of two guitars, drums, double bass, keyboards, accordion, trumpet and sax. Everyone but the drummer sang backing vocals. The musicianship was outstanding. Their infectious Latin-tinged country is perfect party music and the place was swinging. It was one of the best gigs I've ever attended. And yes, I danced the night away...
It was too early to go home, so we went to the American Federation, a club that has been hosting jazz on Saturday nights since prohibition. I was not particularly enamoured by the modern jazz being played on the stage but I was happy to be in a room where the likes of Louis Armstrong, Duke Ellington, Count Basie and Charlie Parker had performed. 
My friend Matt seemed to know every down and dirty bar in the city, and the names of the bartenders, too. We cruised a few of them including the Shady Lady, which more than lived up to its name. 
We called it a night at 4am and had breakfast in a Mexican restaurant. 
The next day there was a blues jam down at Knuckleheads. The musicianship was so good that I couldn't resist getting involved. The bemused crowd's interest was piqued when they heard my English accent. Whilst they were rooting for me, I felt there was an element of, 'okay, show us what you got'. Just as I did back at Papa Turney's jam session in Nashville, I dug out both my blues staples of Unchain my Heart and Before You Accuse Me. The band were excellent and the crowd got behind me. I was thrilled to have played on the stage where only the night before I'd seen The Mavericks.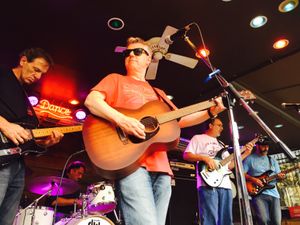 Jamming at Knuckleheads
Kansas City is famous for its barbecue. And rightly so. Barbecue is very important in KC. The folks there can talk for hours on the various merits of different establishments. Debates cover such topics as the 'sauce' the 'burnt ends' and the 'refried beans'. My favourite (and in the years that have followed I have tried every other outlet available) is a very down-to-earth restaurant called Bryant's (as frequented by one Barack Obama).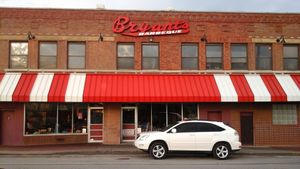 Bryant's Barbecue
During that week, I visited a venue called BB's to see the excellent Nick Shnebelen Band. I hung out in a bar called Johnnies and watched the local baseball team – The Kansas City Royals play. And I sought out a statue of political fixer 'Boss' Tom Pendergast.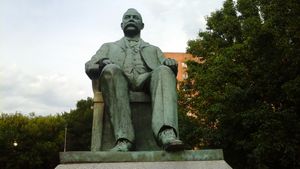 'Boss' Tom Pendergast
I thought Kansas City deserved a song. So I wrote Kansas City Won't Let Me Go. The following year I would appear on US radio and televison performing that song. And it is played at Kansas City Royals and NFL team Kansas City Chiefs' games... in Johnnies. 
On subsequent trips I have canoed on the Missouri River, gambled in a casino, and driven an 18 wheeler semi-truck. The only thing left on my to do list is hop a freight train. I'm working on it... 
The next day I headed north for the gig in Des Moines, Iowa. I only knew two things about Des Moines. One, that it is the insurance capital of the US. Two, that it's home to rock band Slipknot. I like to think that the two are related. I think that's why the band wear masks – by night they are rock stars but by day they are middle management loss adjusters for one of the big firms and want to keep their identities secret from their bosses, and keep their job options open just in case this rock star thing doesn't work out. While I'm not a fan of their music, I admire their prudence. 
My gig in Des Moines was a house concert – which is as exactly what it sounds like - a gig in someone's house. 
House concerts are very popular in the States (perhaps because they have bigger houses) and work like this: the host books an artist they like and invites friends to come and see the artist perform, for which they pay an entrance fee. The guests get to see the artist up close and personal, and interact with them before and after the show. The host gets the kudos of having introduced friends to a new artist; the artist gets to perform to a new audience, is paid the entrance money, sells merchandise, and is also fed and watered and put up for the night. It's a win-win situation that, in the fractured business model that is the modern music business, can be the difference between a tour losing money, breaking even or actually making money. 
I am now a veteran of house concerts. My tours are now made up more of house concerts than bars and clubs. But this was my first one and I was very nervous. 
My host was Scott Stilwell, a songwriter I first met in Nashville in 2014; we had written a couple of songs together. We have since co-written several more songs together and become close friends. He visited the UK in 2019 and we played a gig together. We were supposed to tour the UK together this summer but...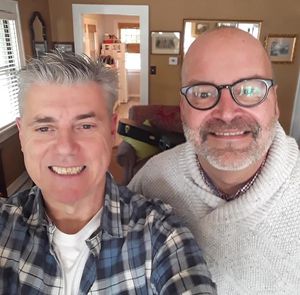 Me and Scott Stilwell
At Scott's house that night, there was no PA amplification; just me and my guitar sitting in the living room of Scott's apartment, in front of about 20 people. It was very intimate. It was very laid-back. The audience listened intently. During certain songs I could feel the intensity heighten. As an artist you respond to that and your performance of the song builds and the audience responds to that; it was very organic. Very magical. 
I also enjoyed that I was able to take my time telling the stories that set up certain songs. 
I played two 45-minute sets with an intermission of 20 minutes. I only usually play one set, so I had spent a long time mulling over the set lists. I like to think that I got it right, in terms of light and shade, different keys, major and minor, happy and sad, fingerpicking and strumming, fast and slow. 
A set staple is a song of mine called Crazy. In my introduction I tell the audience that there is a trombone solo on the album recording. This is to set up a 'mouth' trombone solo from me. However, I was completely upstaged by Scott's mother's impromptu and quite exceptional mouth trombone solo of her own! She's one classy lady. 
At the end of the night, I insisted that Scott play a couple of his new songs he'd played to me earlier. It was nice to shine the spotlight back on him. 
The people of Des Moines were very generous; not only did they pay a minimum of $15 dollars admission, but everyone present bought either an album or an EP as well. It was my best payday of the tour. And I didn't have to drive to a motel. 
I spent a couple of days in Des Moines. My favourite places of interest were the John & Mary Pappajohn Sculpture Park and the stunning State Capitol Building. 
Scott invited me to a meal his son was hosting because it was Father's Day. I was far away from my own children and was missing them terribly, so it was nice to spend some time in the warmth of a family environment; we toasted fathers everywhere. 
The next day, with thoughts of the intrepid pioneers of long ago, I headed out west.

                                                                                                                               House Concert in Des Moines IA