I hitched up my wagon – well, I put my suitcase and guitar in the boot of my Buick Lacrosse and headed out west. My destination was Colorado Springs but it was too far to travel in one day, so I looked at the map and chose Ogallala, Nebraska as an overnight stay for no other reason than I liked the sound of it. I like saying 'Ogallala'. It's fun to say 'Ogallala'. Try it. Don't you feel better for saying it? It's fun. However, saying 'Ogallala' is a lot more fun than being in Ogallala. I'm thinking that the word 'Ogallala' is probably Arapaho or Cherokee for 'bugger all happens here'.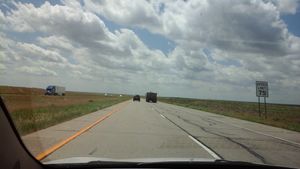 Heading west
But to be fair to the Nebraska town, I didn't get to see a lot of what it had to offer because I was stuck in my hotel room for the entire time I was in the city limits, due to the mother of all storms taking place. The television warned of hail stones the size of tennis balls, just before the electricity cut out for the night. 
Speaking of my motel room, it was straight out of a 1950s B movie, where the protagonist is hiding out from the law. The sign – in Spanish as well as English – which requested that you don't flush your toilet paper down the loo but place it in the bin provided, kept me mentally occupied for quite some time.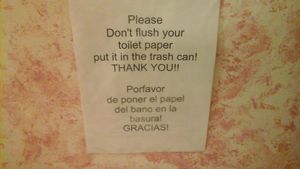 Shit sign
I went to a local diner for breakfast. "Do you have anything that's not been smothered in either syrup or cheese?" I asked the waitress. She looked at me, blankly. I had coffee and left for Colorado Springs. 
After the humid heat of the mid-west, and the flatness of the landscape, the State of Colorado was a welcome change. The Rocky Mountains slowly came into view, and then took an age to reach. Once they are upon you, they are awe-inspiring. I heard myself saying, 'wow'. 
The area of Colorado Springs where I was performing is called the Black Forest. Unfortunately, the forest was living up to its name as, two years ago, the area was subjected to one of the worst forest fires in US history. I saw acre after acre of charred woodland; it was a very sad sight. How the wooden structure of the Black Forest Community Centre survived no-one is quite sure – but survive it did.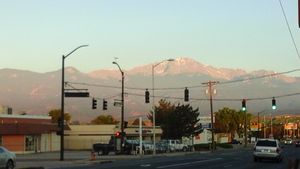 Colorado Springs and The Rocky Mountains           
The Community Centre is home to the Black Rose Acoustic Society – which is dedicated to the preservation and presentation of acoustic music. 
It's a great-sounding venue; the natural acoustics of the room are enhanced by a quality sound system which is in the hands of a sympathetic sound engineer. My sound-check lasted about two minutes. As soon as I plugged in my guitar and strummed it, I knew it was going to be a good gig. 
There were about 150 people in the room, who were all there to hear acoustic music. That means they were a listening audience, who hang on every word from the artist. I knew they were on my side the moment I opened my mouth – once again, the accent helped. Every song was greeted with enthusiasm but I could feel that two songs in particular were touching a nerve. I could sense the emotion in the room intensify as I played Judgement Day, which deals with the death of a loved one. And the finale of Restless Celtic Heart complete with a preamble about Irish history and my ancestry, had the crowd cheering along by the end of the song. I sold out of EP CDs, with almost every customer checking that either of those two songs was on it.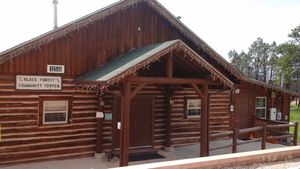 Black Forest Community Center 
Prior to my performance, I had booked into a motel in town online. After the show, I found an email requesting I confirm my reservation within an hour (which was now three hours ago). I contacted the motel to be told my room had been let. I rang every motel and hotel in Colorado Springs to be told that due to the White Water Rafting Festival in town the next day, there were no rooms to be had. 
I was going to have to sleep in the car. I thought that alcohol might aid sleeping in uncomfortable circumstances so I headed to the nearest bar to while away a couple of hours. My plan was to be the last to leave the bar and then sleep in the car park. 
I was in the bar so long that I inevitably started chatting with the barmaid and told her my predicament. She suggested that I pull the car behind the bar as there were strict vagrancy law in the state of Colorado. She said that if the police found me sleeping in the car they would surely arrest me. 
Our conversation was interrupted by the arrival of her boyfriend. She had confided in me that she wasn't sure about them as a couple. I could see that. She was a delicate and thoughtful flower, he was loud and brash. If this were a scene in a 'teen' movie he would be the one bullying the shy, awkward hero of the film. Think 'Biff' from Back to the Future. After he left, I told her she could do better. I think there's a song there, somewhere. 
I settled down in the car behind the bar for the night. An hour later, a visit to the bathroom (a nearby bush) was quickly curtailed by a coyote howling. I might have swore as I quickly adjusted my clothing and hurried back to the car. I lowered the seat back and wondered if coyotes could open car doors. 
I didn't sleep much. 
I had breakfast in a diner at 6am: "Can I have that without cheese?" 
I cruised the main street of Colorado Springs. I saw people leaving a motel and thought that maybe rooms would be available today, so I took a chance and pulled over. I was in luck. The motel owner kindly rushed house-cleaning to prepare my room, and I was asleep in a nice clean bed within the hour. 
I spent the weekend being a tourist. I went to the White Water Festival (I forgave it for stealing my motel room) and saw a great Celtic-punk band from New York called Potcheen. I went to the jaw-dropping Royal Gorge (a sort of mini Grand Canyon) and also to the beautiful Garden of the Gods (an amazing rock formation, millions of years old).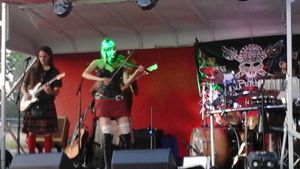 Celtic-punk band - Potcheen
I headed south for New Mexico, the Rocky Mountains giving way to the Sangre de Cristo Mountains, the green of Colorado giving way to the rusty brown of New Mexico. 
En route, I stopped at the Coor's Inn in the town of Pueblo to eat a "slopper" - an open hamburger sandwich covered with chili and onions, and the inevitable cheese. It was delicious.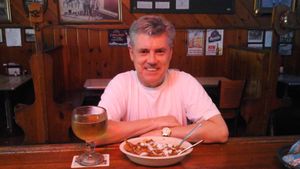 Coor's Inn, Pueblo CO - home of 'The Slopper'
I struck up a conversation with a biker couple. They were riding Harley Davidson motorbikes down to Mexico. One of their bikes was having some work done in a nearby shop. Ginny told me how joining a motorcycle club had changed her life. How she and Randy had met and fallen in love.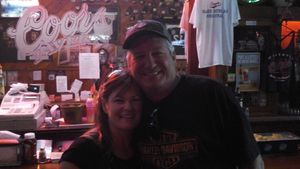 Ginny and Randy
As I passed the dealership where Ginny's bike was being fixed I noticed the large Harley Davidson 'wings' logo above the shop. 
I headed south to New Mexico on Highway 25. I kept thinking about Ginny's story. I turned on my digital recorder and started singing. This would become a track on the American Odyssey album. Two years later, Ginny and Randy married. For their first dance they had a song called When Ginny Gets Her Wings by an Anglo-Irish singer-songwriter.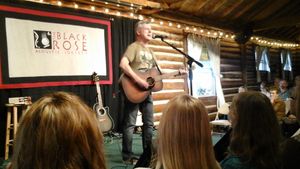 .                                                                                                                     The Black Rose Acoustic Society