My destination was the town of Taos (pronounced Towce) where the following night I was due to play at the Historic Taos Inn. The Dalai Lama once said that God inhales in Nepal and exhales in Taos.  It is regarded as a spiritual, mystical place. 
I was staying with Keith McHenry, a political activist and founder of Food Not Bombs who have been feeding the homeless for over 20 years. When I'd contacted him to say I'd like to meet him and could I stay with him, he'd said, "Sure, you can sleep in my tepee, anytime". I thought that was just a turn of phrase. It wasn't; as I approached his farm, I could see this ruddy great tepee rising up out of the land. This was a bit of shock because I like my creature comforts, but I thought, like so many things on this trip, I would embrace it.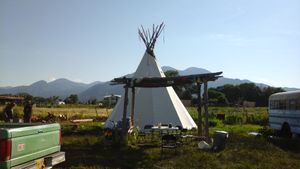 Taos Tepee
There were some personal belongings in the tepee. Keith explained that they belonged to a young man called Adam who came and went but wasn't there at the moment. Keith said that this was just as well as Adam was "a little strange." As Adam wasn't going to be there, I didn't pursue the matter. 
Keith and I headed into town for a drink at the Taos Inn where I was due to play the following night. During the evening, we got separated, so I made my own way back to the farm. There was a light on in the tepee. Adam had returned. I could see that he wasn't happy at having his space invaded. I think it was his rocking back and forth as he said: "Keith didn't say nothing about nobody staying here, man". I asked if it was a problem. He relented and offered me a sleeping bag and pointed to a space, saying, "You can sleep there." He plugged earphones into his phone and starting watching a movie. There seemed to be a lot of screaming involved in the movie's soundtrack. On the upside, this seemed to cheer Adam up. In dark moments, when I might have imagined my demise, I'd never thought it would be in a tepee in New Mexico. 
I woke up early. I was just glad that I'd woken up at all. The fears of the night evaporated; Adam turned out to be a nice lad; he was just different, living off the grid. I felt guilty for doubting him. 
Keith took me to the Taos Pueblo – a nearby Native American reservation belonging to a tribe whose name I can't pronounce, and as they have no written language, can't be written down anyway but translates as 'the red willow people'. They were there before the Spanish Conquistadors came in the 16th Century, and of course, long before the white settlers came and stole their lands. Our guide around the reservation was Jaro, who was born there, and after he graduates from college he will work for the organisers of the reservation. He was a gentle soul, and he told us of how the tribe's traditions hadn't changed throughout history, of how in tune with nature they are, and how spiritual they are. It made me wonder what so-called civilisation brought to the continent. It was a very humbling experience.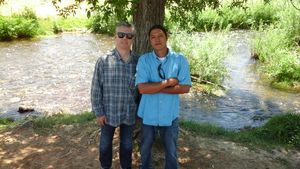 Me and Jaro of the Red Willow tribe
Back in the tepee, I reviewed my contract for the gig that night. There in the small print was a clause that offered the artist the use of a hotel room. Before you could say 'Geronimo' I was in the car and heading into town. Within the hour, I had showered and was fast asleep in a comfy bed. 
The gig consisted of three 45 minute sets. That's a long time to play original material, and as there were quite a few tourists in the audience, I decided to throw in some covers (songs by British and Irish artists – I would feel odd playing American songs to US audiences). Original and covers were all well received. 
There is an American tradition of tipping musicians at small venues. I am not comfortable with this. I like a contract, and to know what I'm earning. If I'm honest, I find it demeaning. However, as I was playing, the bar manager put out a tip jar. Before I could protest, someone came up and put a 20 dollar note in the jar. Okay, I thought, let's go with it. 75 dollars later, I'm glad I did. On a tour like mine, that's the difference between a seedy motel and a decent one.  
The following morning, I left for Santa Fe, calling in at the spectacular Rio Grande Bridge on the way. The front cover of American Odyssey is a photo from the bridge.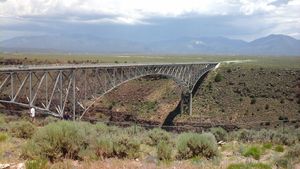 Bridge over the Rio Grande
Santa Fe is a beautiful town with wonderful Spanish-style architecture. I viewed the cathedral and the Native American Arts Museum. 
There is an area of Santa Fe called Agua Fria. It was once a town but so much has been built up around it that it is more of a district now. The town is mentioned in a Marty Robbins song called Big Iron, which tells the tale of an Arizona Ranger's gunfight with a notorious outlaw. It was one of my Dad's favourite songs, and it had a profound effect on me as a songwriter with its lyrical and poetic storytelling and its wonderful rhyme and meter. 
I found what I considered to be the centre of Agua Fria; I got my guitar out, and sat on the street corner and played and sang Big Iron, much to the bemusement of people passing by. A police patrol car pulled up beside me. An officer got out from the car; fortunately, he was smiling and didn't feel the need to pull out his big iron.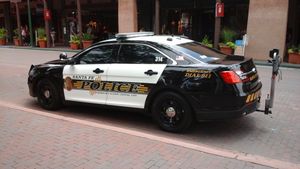 Santa Fe's Finest
My gig was at a Belgian beer house called Duel. Three 45 minute sets of all original material (they were very adamant that there be no covers). With all 10 songs from the album, five from the EP, and a couple of new ones I'd written since being in the US, plus my elaborate story-telling, this was no problem at all. And I was offered a house concert next time I'm in Santa Fe. 
I sampled the Belgian beer. After three beers, the waitress refused to serve me anymore. "It's too strong," she told me. "It might be if you're used to Bud and Miller Lite," I protested, "but I'm used to drinking British beer – and Guinness.". I stared at her. She thought about it for a moment, and said, "Okay". I mean, really. 
Performing artists are allowed fifty dollars gratuity in food and drink. I had barely come close to this amount so the bar owner handed me a bottle of Jim Beam for me to take back to my room.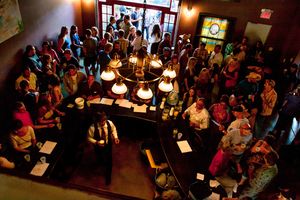 Belgian Bar - Duel
I do not drink spirits or 'liquor' as the Yanks call it. Occasionally, I'll take a glass of Irish whiskey (mostly when it's offered in US bars when people realise my Irish heritage). I learned long ago that drinking large amounts of spirits can change my mood drastically so it's best that I avoid them. I either become very depressed or indestructible. Much to the delight of the occupants of the rooms adjacent to mine that night, I'm sure, it was the former. 
After a couple of glasses of Jim Beam I started feeling homesick so I picked up my guitar and started writing a song. A good ol' country song that I imagined George Jones singing. After writing the first verse I rewarded myself with another glass of bourbon... 
I was woken by the New Mexican sun streaming through the window. I was on the bed, in my clothes. I had the mother of all hangovers. On the bed beside me was my guitar, my digital recorder and an empty bottle of Jim Beam. 
The digital recorder's LED light was flashing. This indicates that the machine's memory is full. I plugged in my headphones and clicked the playback button. There in its entirety was Santa Fe Sadness. Apart from the slurring it's as you can hear it on American Odyssey. I made a promise to myself that if the song ever made any money, I would share the proceeds with Jim Beam. 
Then I went in search of aspirin. 
It was July 3rd. I'd been invited to spend the 4th July celebrations in Kansas City. It was a twelve hour journey from Santa Fe to KC.