I left Santa Fe early in the morning. I was very keen to get back to Kansas City, Missouri. A bit too keen, according to the Kansas State policeman who pulled me over in Lawrence County, Kansas. I thought that I would be able to sweet-talk my way out of the $180 fine but the humourless 'County Mountie' was having none of it. It's also hard to blag when the blag-ee has a gun. He told me, quite sternly, that if the fine wasn't paid by a certain date, and I didn't appear in court on August 8th an arrest warrant will be issued with my name on it. I would be a fugitive from justice – an outlaw! How cool is that? 
I was heading back to KC to spend Independence Day with all the friends I had made on my recent trips to the city. 
July 4th started for me and my good friend Matt with pancakes, as I thought this was a terribly American thing to do. To hell with King George, I said, let's eat pancakes. I was sure that there must be something in the constitution about the inalienable right to eat pancakes smothered in maple syrup.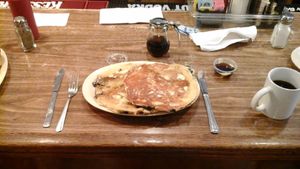 Independence Pancakes
The pancakes were very good. 
It was time to start celebrating. Several bars were visited, and one private redneck drinking club. There is a sign outside the club which states: 'No guns'. I wondered how they enforced this, as the miscreant breaking this rule will be carrying a gun! It's probably by producing a much bigger gun! 
It was at this point Matt said to me: "You need to meet Mr Piggles". This was by no means the strangest thing Matt has said to me in the time I have known him, so I just said, okay. 
Mr Piggles is a black pig who lives in a recording studio on the fifth floor of a converted warehouse a couple of blocks from where Matt lives in an area called the West Bottoms. He was very friendly and I'm glad I got to make his acquaintance. I didn't find out what his role at the studio is.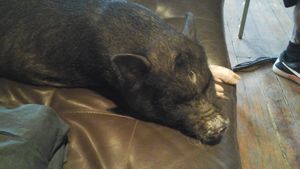 Mr. Piggles
The main event took place at the house of Jay and Jenny – friends of Matt. There was a pool and a barbecue which are prerequisites in my fantasy of a perfect Independence Day party. Somehow, most of the guests were people I had met in my time in KC, and all were people I wanted to see again. People like the charming and affable Shep (a lawyer who when I told him of my speeding fine, took my ticket from me saying: "I know some people in the District Court Clerk's office in Lawrence County." I never heard any more about it); his lovely wife, the smoky-voiced Rita, and their charming neighbours, Jack and Patrick. Shep and I bonded during my last visit to KC. He is a gambling man, and when I had told him about the only time I ever gambled in my youth, we realised we had a shared love of, and owed a debt to the jockey Stevie Cauthen. Shep even has a tattoo on his back in honour of the great American horseman.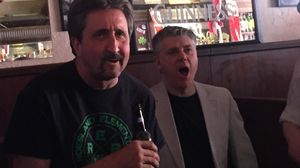 My Lawyer Shep and Me 
Americans take barbecuing very seriously. But in Kansas City, it is a religion. I have witnessed many conversations about the merits of barbecue - Bryant's v Gant's; whose burnt ends are the best; whose re-fried beans are best; even whose coleslaw is best. 
There is tremendous dedication needed to ensure the perfect burger; I would feel under immense pressure but host Jay casually inspected and flipped the meat as he talked about the prospects of the local baseball team, the Kansas City Royals for the upcoming game against the Minnesota Twins.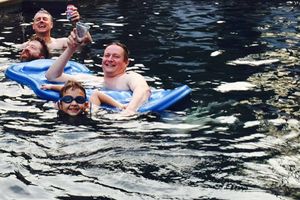 Pool Party
At dusk, and after much eating, drinking and larking about in the pool, the entire party was moved to the roof of the three-storey building to watch the fireworks display. This was not an official event, as letting off fireworks in Kansas City, Missouri is illegal, but it is a pyrotechnic panorama put on by the public which the police turn a blind eye to. For three hours or more, the sky was filled with non-stop, colourful explosions as far as the eye can see in all directions. It was a truly remarkable spectacle. I watched the inhabitants of the house across the street let off a small fortune in noisy rockets but I don't think you can buy the bonding experience between the father and son of that house as they carefully prepared to ignite their precious booty.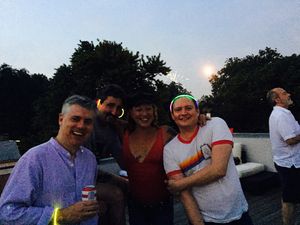 Up On the Roof                                                                                                                              
The final event of the evening was my debuting the song that I had written about Kansas City, MO called Kansas City Won't Let Me Go. The song is peppered with locations and references that only locals would appreciate. I was a little nervous presenting it to them but I was emboldened by the fact that I was quite pissed (that's UK pissed, not US pissed). Drunk as I was, I managed to perform a reasonable version of the song, and it went down a storm. It even made Shep cry; while I don't like to upset people, I was thrilled that, as a songwriter, I had hit the nail on the head.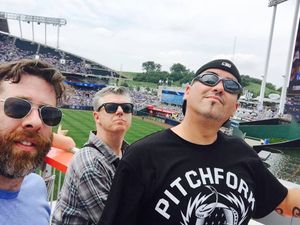 Baseball Buddies              
The next day Matt and I went to the Royals game at the Kaufman Stadium with his friend Verne. This was my first baseball game. I thoroughly enjoyed it, despite not having a clue about what was happening down on the pitch. I cheered and I applauded and I looked concerned in all the right places, taking my cues from the crowd around me. The games go on for quite some time. The heat was such that I had to go and find some shade to cool down in.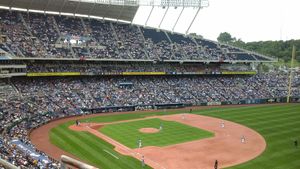 The Diamond Thingy
The Royals ran round the diamond thingy more times than the Twins, so they won. 
I am now, of course, a dyed-in-the-wool, full-on Royals fan, for ever. 
Matt and I had supper at Rita and Shep's. Rita had cooked her Sicilian grandmother's special three-day sauce. As she stirred the pot she said to me: "I don't cook this for just anybody, Tony." I felt honoured.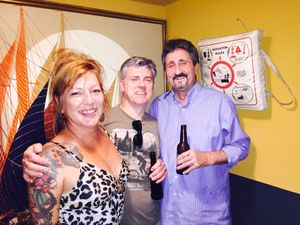 Lovely Rita, Me and Shep
Shep presented me with a photo of him in his college days to remind me of our horse racing bond; it was his turn to make me cry. That photo is now framed and hanging on the wall in my music room. 
The next morning, I said goodbye to Matt and his flatmate Anders for the last time that year. 
I was bound for Alabama.