When Pete Thomas of Oh Mercy! Records first suggested a tour of the US, we sat down and discussed where I would like to play. I had said that I would go anywhere (he took me at my word and I ended up driving 11,000 miles) but to please, please try and get me a gig in Muscle Shoals. 
I had recently seen the wonderful documentary by Greg Camalier called Muscle Shoals which told the story of the area in Alabama that produced so much great music in the 1960s and 1970s. Pete came through and I was booked to play at a bar in Muscle Shoals called Swampers.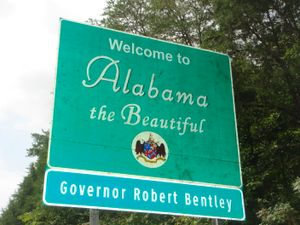 Sweet Home Alabama
As soon as you cross the state line from Tennessee to Alabama, you start to notice the plethora of churches. They seem to be every quarter of a mile, each one a different denomination or a variation on a name. I thought that I'd found the buckle in the Bible belt. 
The Muscle Shoals area is really made up of three small cities: Florence, Sheffield, and Muscle Shoals itself, all nestled on the banks of the Tennessee River. Much is made of the river's influence on the music that came out of the region. The Yuchi tribe of Native Americans believed the river sang to them.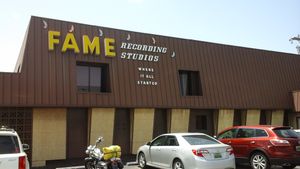 FAME
The FAME Studios (Florence Alabama Musical Enterprises) is still a working studio. Guided tours were limited on the day I visited as Alicia Keys was recording there. I was so excited to be in the room where Aretha Franklin sang I Never Loved a Man, Wilson Pickett sang Land of 1,000 Dances, and Etta James sang I Would Rather Go Blind. This was also the room where Southern Rock was born when a young guitarist named Duane Allman convinced Wilson Pickett to record a funky version of Hey Jude. I spotted a box of recording tapes labelled 'Duane Allman Outtakes'. I would have loved to listen to that! The tour guide told of how even though segregation was the norm in 1960s Alabama, inside FAME black and white musicians worked and played together (it comes as a surprise to a lot of people that the rhythm sections on a lot of R&B and soul music's biggest hits were a bunch of white college kids.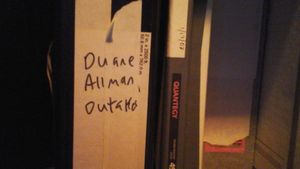 Duane Allman Outakes
The next day, I visited 3614 Jackson Highway – the Muscle Shoals Sound Studio, set up in 1969 by the musicians known as 'the Swampers' ("Muscle Shoals has got the Swampers, they've been known to pick a song or two" – Sweet Home Alabama – Lynyrd Skynyrd). It's not a recording studio any more but as they just closed the door on the place in the late 1970s to move to bigger premises, it's as it was when the Rolling Stones went there to record Brown Sugar and Wild Horses.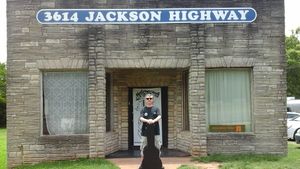 Muscle Shoals Sound Studio
There were no other visitors in there when I arrived; I had my guitar with me because I didn't want to leave it in a hot car. I stepped through the front door and waited for my eyes to adjust to the gloom of a room with no windows and low lighting. There was a young man sat behind a desk reading a music magazine. He put it down and smiled at me brightly. Can I look round the studio? I asked. "Sure, you can, if you've got five bucks," he replied. I thought that was a bargain and offered up a five-dollar bill. He noticed my guitar and said: "Do you wanna go in there and play?" I did not expect this. Yes, please, I said. I walked into the studio. The room looked old. If you were making a film set in the 1970s about a recording studio, this is how you would want it to look. I spent ages just standing in the room, soaking up the atmosphere and looking at the black and white photos on the walls. Among them were candid shots of Mavis Staples, Rod Stewart, Paul Simon, and the Rolling Stones.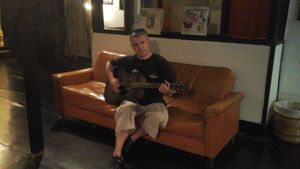 Recording in Progress
I sat on the sofa where Mick and Keith once sat and I played as many songs as I could remember that were recorded in that room – and there were quite a few. I also got out my digital recorder and recorded some of the songs I'd written during the tour. Just so I can say, "Here's one I recorded at Muscle Shoals". Well, can you blame me?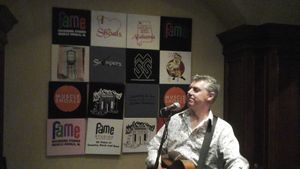 Shevlin Swamper
Swampers bar turned out to be situated in a Marriott Hotel. As well as getting paid for the show, the management had thrown in a meal, a couple of drinks, and a very nice hotel room. It was a holiday weekend and the hotel bar was packed. After I had played Restless Celtic Heart a man came up and said in a broad southern accent "My great granddaddy was from Ireland. Do you know Black Velvet Band?" Of course I do. He promptly popped $20 in the tip jar that I hadn't noticed at the foot of the stage. Every time that I played a traditional Irish song, somebody came up and dropped a $20 bill in the jar. By the end of the night (three sets of 45 minutes) there was $200 in there. I also played some songs recorded in Muscle Shoals. The audience appreciated my homage to the area. 
Two local musicians took the time out to speak with me. Malcolm and Eddie play in a band called the Wildwood Ruminators. They told me about life in Muscle Shoals. They told me that the Swampers are just regular guys – keyboardist Spooner Oldham even played on their album. 
We were enjoying the chat so much that we agreed to meet for a late breakfast the following day.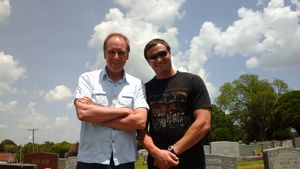 Eddie and Malcolm - Wildwood Ruminators
Breakfast was at a Cracker Barrel. These are southern-themed restaurants and gift shops. I've been at quite a few since that day and it seems they always keep you waiting for a table, giving you ample time to peruse the gift shop. I had to try a classic southern breakfast of biscuits and gravy (like a scone with bacon-flavoured porridge poured over it) and grits – crushed ground corn with all the fixin's.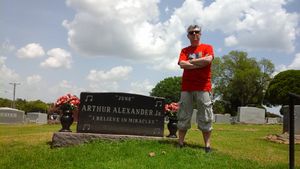 Arthur's Grave
The lads were very knowledgeable about the history of Muscle Shoals. After breakfast, they took me to the grave of local singer-songwriter, Arthur Alexander – the only man to have his songs covered by The Beatles, The Rolling Stones and Bob Dylan. His success paved the way for the FAME Studio. Without Arthur, there would be no 'Muscle Shoals sound' and yet there isn't even a plaque recognising his contribution to music. 
I wish that I could have stayed longer in Muscle Shoals and with the friends that I had made but it was time to move on. Eddie suggested that one day I come back to Muscle Shoals and record there. I wish.
On the road to Montgomery, I pulled over to the side of the road and wrote a song about Muscle Shoals. It's the second track on American Odyssey and it's called Set Me Down by the Singing River. 
My next gig was in Memphis, but I had decided to make a detour. Quite a detour, actually – of 200 miles. To visit a grave and a bridge. 
In Montgomery I found the grave of Hank Williams Sr. He is one of my all-time favourite songwriters and I wanted to pay homage. 
A warden of the graveyard helped me find the grave. He thanked me for taking the time to pay my respects. 
There was no one around at the monument to Williams, so I got my guitar out and sang a couple of Hank's songs at his graveside. I thanked him for the music and left.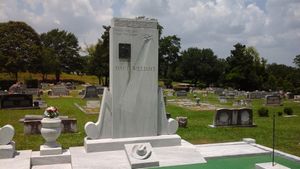 Hank Williams' Grave
I stayed the night in a motel on the edge of the city (the cheap ones are always on the edge of town near the freeway). I planned to drive to Greenwood, Mississippi the next day in a quest to find the grave of legendary bluesman Robert Johnson, so I turned in early, but the night air was oppressive and I struggled to sleep. When I did, I had the weirdest dream involving Hank Williams and Robert Johnson. I woke up in a sweat. I couldn't get back to sleep so I sat up wrote Robert Johnson's Blues - the final track on American Odyssey. 
I had breakfast in the motel. This was a Sunday and the television in the dining room was tuned to a religious channel. A heavily tanned man wearing a smart suit and a plastic smile was offering redemption and a DVD for a mere $129.99.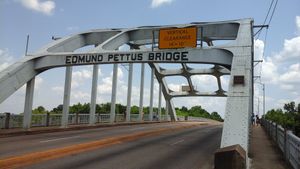 'Bloody Sunday' - Selma, Alabama
I drove out of Montgomery to the town of Selma. I stopped at the Edmund Pettus Bridge. The bridge crosses the Alabama River on Route 80. This is where on 7th March 1965 - known as 'Bloody Sunday' - some 600 marchers led by Martin Luther King Jr were attacked with clubs and tear gas by local and state policemen. 
It was quite thought-provoking standing on that bridge.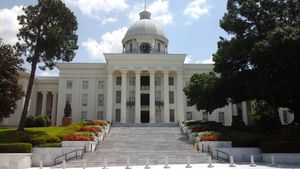 Montgomery State Capitol Building
Before leaving for Mississippi, I decided to drive back in to Montgomery to visit the Alabama State Capitol Building. It's a magnificent structure. I was staring at it, thinking of the history; this is where Martin Luther King Jr and the Civil Rights marchers were making their way to, so they could cast their votes on 'Bloody Sunday'. I was lost in thought, thinking about what those people went through. My thoughts were interrupted by the arrival of a man on a Harley Davidson chopper motorbike. "T'aint right, I tell ya!" he shouted at me. "They took down the flag without no ceremony, no nothing and that ain't right." I knew what he was referring to. I had been following the news concerning the Southern Cross flag, which had been removed from government buildings after the shooting of seven people in a church in South Carolina. The victims were black and the perpetrator was white. The jacket he wore was adorned with a Southern Cross flag.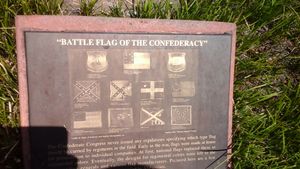 Confederate Flag Plaque
Before I had time to respond I heard a voice behind me. "Damn right, it's right!" 
Coming down the steps of the Capitol building was a woman dressed in a pink top and wearing a big white hat. She marched right up to the biker and told him in no uncertain terms just why she thought it correct that the Confederate flag was no longer to be flown on government buildings. It was like a cross between Fried Green Tomatoes and The Sons of Anarchy. 
The biker capitulated and roared off on his bike. The southern belle introduced herself as Sharon McClendon Price, "a liberal, a Democrat with a gay son, living in the heart of the Bible belt... I'm a minority."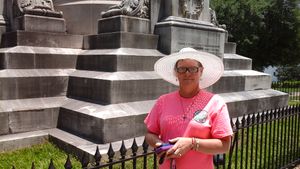 Sharon McClendon Price
We spent a while talking; she was keen to hear how the UK viewed US politics. We both concluded that it would all turn out okay as long as Donald Trump (who had recently declared his intention to run for President in the 2016 election) wasn't elected. I mean, that couldn't happen, could it?