Memphis doesn't feel like it's in Tennessee. It feels more like Mississippi – which is just a few miles to the south. Maybe the difference is not just a geographical one due to the somewhat arbitrary drawing of state lines but because many of the musical greats who made their names in Memphis are from other southern states; people like Sam Phillips (Alabama), Johnny Cash (Arkansas), Jerry Lee Lewis (Louisiana), BB King and Elvis Presley (Mississippi). It certainly feels very different from Nashville.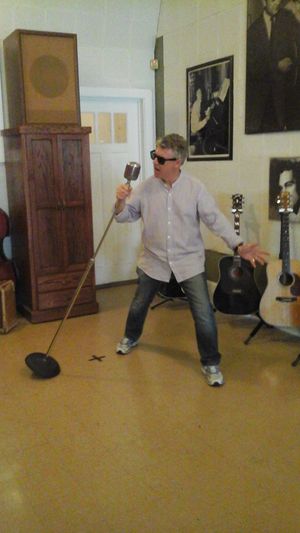 Sun Studios
There is much to see in Memphis; but the absolute must for me was visiting Sun Studios. It was very exciting being in the room where rock and roll was born. There is a photo on the wall of the 'million dollar quartet' – Elvis, Jerry Lee, Cash and Carl Perkins – taken in that room in 1956. Not forgetting that before Phillips started his label, he recorded the likes of BB King, Howling Wolf and Rufus Thomas. 
I went to visit Graceland. If you go to Memphis you have to visit Graceland. 
The Graceland tour is a well-oiled machine. Every aspect of it has been scrutinized and timed. You buy your ticket at an office across the road from the house, queue up, are given an iPad and headphones for commentary, and herded aboard a bus. There is even a traffic light to ensure a quick crossing for the bus.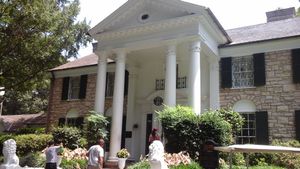 I'm Going to Graceland
You go in the main door and the commentary starts. I felt a little uneasy and voyeuristic, making my way round a dead man's house. I was strangely unmoved by the decor and artifacts. The disembodied tour guide reels off a myriad of facts, all of which I've forgotten. The number of awards lining the corridor walls is impressive but you learn nothing about the man behind the stage persona. The dreadful movies are glossed over, and the excellent 1968 Come Back Special is highlighted. Suddenly, you are in a room where there is a piano. The voice tells you that Elvis played this piano on the morning of August 16th 1977, went upstairs to prepare for the evening's performance – and died. It finishes with the assertion that Elvis is even bigger now in death than he was in life. I think it is disingenuous not to talk about his final years, his struggle with drugs, junk food, and his ballooning weight. Those times are well-documented, and are no secret, and his fans deserve better than this Disney-esque re-imagining of events. It's as though Colonel Tom Parker is still pulling the strings. 
 After my last three grave visits (Arthur Alexander, Hank Williams Sr, Robert Johnson) where I had the time to sit and reflect (and play a song or two), having to queue up to see Elvis's grave was a little disappointing. Not to mention, the fact that the This is Spinal Tap scene where the band are standing at Elvis's grave trying to sing an acapella version of Heartbreak Hotel was playing in my head (too much f*ckin' perspective!). Wasn't it Lennon who said: "Elvis died the day he went in the army"?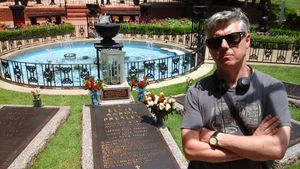 Elvis Presley's Grave
I had to be in Phoenix in three days' time. It was just shy of 1,500 miles taking 20 hours. I headed west on Highway 40. I made two stops along the way. First was Broken Arrow, Oklahoma – because I liked the sound of it. I booked into a motel and drove into Tulsa. I sat with some bar flies hoping that one of their sad stories would make a good song.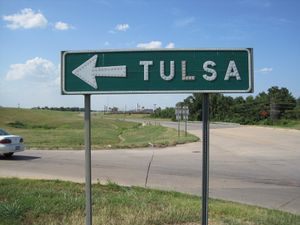 Living on Tulsa Time
The road from Tulsa to Tucumcari, New Mexico is part of the old Route 66. The signs that were taken down in the late 1980s to be replaced by i40 signs have been reinstated as part of the 'National Scenic Highway' and much is being made of its famous past (thanks mainly to the song Route 66). This has helped tourism in the region no end. And speaking of songs - I stopped at Tucumcari, New Mexico, purely because it is mentioned in the Little Feat song Willin'.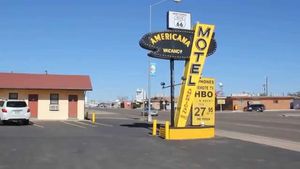 The Americana Motel
My motel - The Americana Motel - was pretty basic. I didn't fancy staying in my room all evening so I drove out to Tucumcari Lake, and watched the sun go down. It was the date of my wedding anniversary, the first one that I'd been away for in 26 years. I was feeling a little sad about being away. I wrote a song called Tucumcari Sunset. It's the fifth song on American Odyssey.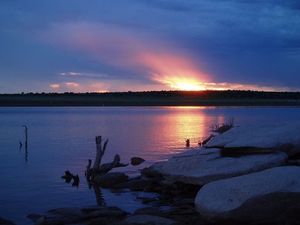 Tucumcari Sunset
I couldn't resist driving into Albuquerque to track down the house used in Breaking Bad that was used as the residence of Walter White and his wife Skyler. The real owners of the property don't mind you taking photos – they just don't want you throwing pizza on the roof...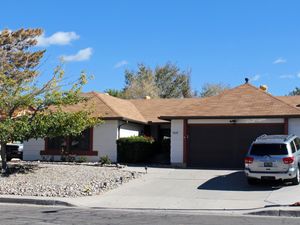 Breaking Bad in Albuquerque 
Northern Arizona is surprisingly green, the mountains covered in foliage. It's only as you head south that the scenery turns brown, and I see the first of many cacti. The temperature gauge in the car starts rising. It reaches 110 degrees Fahrenheit (43 degrees Celsius). Before I leave the state it will reach 115.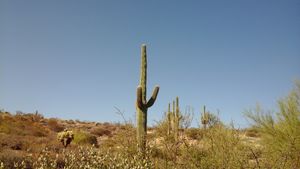 My First Cactus
I was staying with environmental lawyer David Johnson and his lovely family. David is a New Yorker. He says that Phoenix is a great place to live – apart from the summer. "When it's snowing in New York in December, it's 75 degrees here – but in July and August – you just can't stay outdoors!" 
Despite the heat, I drove to the town of Sedona to see the most beautiful range of giant red rocks.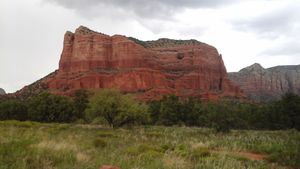 Sedona
My gig was at the Fiddler's Dream Coffee House. I was struggling to find the venue when this guy comes up to me and says "Are you Tony James Shevlin?" I told him I was. His name was Jeff Murphy an Irish American New Yorker who at the time was living in Phoenix (nobody is ever from Phoenix, people move there for work!). He was a great supporter of Fiddler's Dream and had checked me out on the internet earlier. He took me into the building which was a Quaker Meeting House and introduced me to the lovely Nia Maxwell who runs the event. She made me feel very welcome and very special. 
People in the venue go there to hear acoustic music. That's not just music played on acoustic instruments but music played acoustically in that there is no PA. The sound in the room is so good that you don't actually need one. You just stand on the stage and belt out your songs. I loved it. The audience listened intently, and applauded enthusiastically. I'm sure that if I'd had any CDs left to sell, I would have sold a few that night.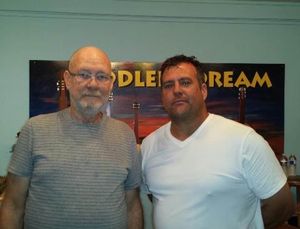 Doug Haywood and Jeff Murphy
Also on the bill that night was veteran musician Doug Haywood. As a session musician, his list of credits is impressive. Jackson Browne, Willie Nelson, George Harrison, Bonnie Rait, Linda Ronstadt and James Taylor. He was a wonderful musician and an absolute gentlemen. I think he was praising my raconteuring skills when he said: "I can't tell a story like these English / Irish guys can – I think they're inoculated with a gramophone needle."
One of the downsides of being on the road is that just as you are getting to know the people that you are staying with, feeling comfortable and at ease with them, it's time to move on. I was sad to leave David and Jennifer but I was excited to be going to California to meet an old mate from back home.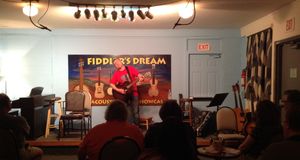 Fiddler's Dream Coffee House