The drive to California was a beautiful one; from wide-open desert with intermittent rocks and scrub through to the mountainous terrain of Cuyamaca Rancho State Park. As I neared the Pacific coast the temperature dropped. After the heat of Phoenix, 95 degrees was suddenly tolerable. 
I was staying with my old band mate from my hometown of Ipswich UK. His name is Nigel Cook and he has been living in San Diego since 2005. It was great to see him, and I think he enjoyed having someone from home around for a few days. We caught up with each other's news over a cup of English tea. It was the first decent cup I'd had since arriving in the US and I savoured it. 
It rained that first day; it was as though the weather gods were making us both feel at home and we loved it! 
We enjoyed being two lads from Ipswich, England out on the town in a US city. Over several beers we reminisced about gigs we had played together – the infamous New Year's Eve gig at The Railway pub and the even more infamous tour of Germany. 
I notice that despite his decade in the US there is no trace of an American accent other than his pronunciation of garage (to rhyme with barge, instead of marriage) and he has dropped the 's' on maths for a US math.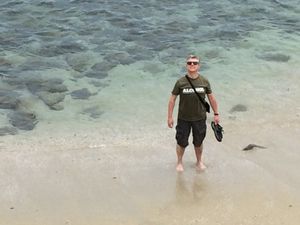 A Paddle in the Pacific Ocean
Nigel took me to a beach so that I could paddle in the warm Pacific Ocean. It felt very good. He revealed that he hadn't been to the beach in a long time. Maybe living right next to the ocean, you take it for granted. When I remarked that he didn't look particularly tanned. He said: "I leave my air-conditioned house, get in my air-conditioned car, drive to an underground car park in an air-conditioned building. I'm never in the sun!" 
While Nigel was out at work, I set about trying to cash the cheque (check) that I had been paid from my gig in Muscle Shoals. I went to the first bank that I came across. A major US bank. Could I pay this in to my account in the UK, please? No, I was told, we can't do that. I then went to a branch of the bank that the cheque was drawn on. The bank teller looked at me aghast. Transfer the money to an account not in the US? Are you mad? So much for a global economy. Finally, I went to a check-cashing store in a rather run-down area of the city. Have you got I.D, they asked. I produced my UK driving licence. Despite having my name, address and a photo of me on it, I was told that won't do. "Do you have any American documentation?" Er, I'm not American, I said. "What about a social security number? That would do." Oh, right. Yes, I lied. I can do that. She presented me with a form and pointed to a box marked SSN. There were nine spaces. I wrote down a random set of numbers. I handed the form back. I had visions of a SWAT team from the FBI suddenly appearing and insisting I put my hands in the air. 
The teller glanced at the numbers, rubber-stamped the form and handed me my cash. 
That night I played Lestat's Coffee House. I got the feeling it was quite a hip place. The bohemian crowd were receptive but a lot cooler than I had become used to.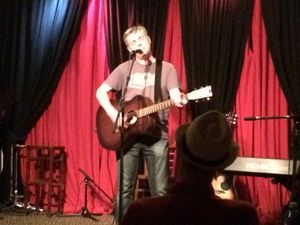 Lestat's Coffee House, San Diego
My next gig was in Amarillo, Texas but I had decided to pay a visit to El Paso, purely because of the Marty Robbins song named after the west Texas town. I wondered whether wicked Felina might still be whirling down at Rosa's Cantina. 
Highway 8 becomes I-10 and the road turns south at Phoenix towards Tucson. At one point just before Yuma I was driving so close to the border with Mexico that my phone pinged and 'welcomed me to Mexico.' 
I stopped for coffee in the town of Bowie – named after the American Pioneer who has a knife named after him. This didn't stop me singing Davie Bowie songs as I gassed up the car. 
The reds, pinks and golds of the mountains, the sky and the desert as the sun went down in New Mexico were breathtaking. After you cross the Rio Grande at La Cruces, the highway swings south towards Texas. It was dark by the time I reached El Paso. 
I didn't have a motel booked so I took a chance on wonderfully seedy-looking El Paso Inn just because it had El Paso in its name.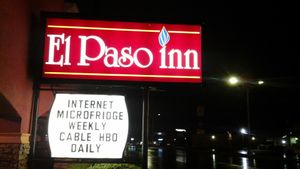 The El Paso Inn
The man on reception told me that there was a problem with the credit card payment machine so he could only accept cash. I smelled a rat here and felt sure that my $60 was going straight in his pocket with maybe $10 for the maid to clear out the room the next morning so the owners would be none the wiser that the room had been slept in. 
I offered $30 and said I don't need a receipt. He said: "No way!". I said fine and turned to walk away. He called me back and said "$40 – best I can do!" 
We settled at $35 and I mentally thanked the author Lee Child who had his character Jack Reacher use this ploy in a recent novel. 
The road from El Paso to Amarillo crosses briefly back into New Mexico. I made a slight detour so that I could pass through Roswell, where allegedly in the summer of 1947 an alien space ship crash-landed and was hushed up by the authorities. I drove around looking for aliens but the only one I could find was me.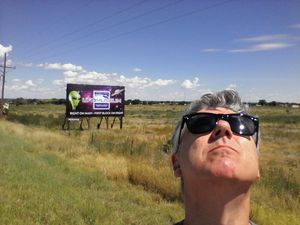 Looking for Aliens in Roswell, New Mexico
Back in Texas, I passed through the town of Friona which claimed to be the cheeseburger capital of Texas. How true, and how hotly contested a title that is, I have no idea. 
I was about 50 miles from Amarillo, when an uncontrollable urge came over me. Despite having a large and efficient map of US state highways, a top-notch satellite navigation system, and adequate signage on the roads, I couldn't resist pulling over to the side of the road, winding down the window, and asking a passer-by: "Excuse me, sir, but is this…….?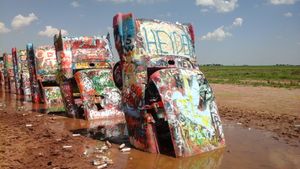 Cadillac Ranch 
In Amarillo, I paid a visit to the city's famous Cadillac Ranch – a public art installation – ten old Cadillacs half-buried in the earth by some hippie architects back in 1974, situated in an old wheat field off interstate 40. People go there armed with spray paint cans; every day the colours change. 40 years later, the piece is still a work in progress.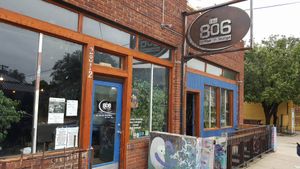 806 Coffee House, Amarillo, TX
My gig in Amarillo was at the 806 Coffee House. Also on the bill was Austin TX resident Devin James Fry. We decided not to do the usual opening act and headline and shared the night, playing five songs each and then swapping. It worked really well; it meant neither of us was sitting around for a long time, and the audience were constantly introduced to a change in style every half-hour or so.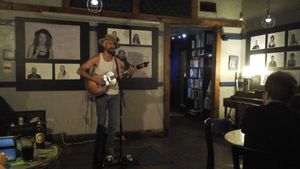 Devin James Fry
I am not a fan of the craft beers that I've come across in the US. I think this is because all of these micro-breweries popping up all over the country are still in their infancy and at the stage of thinking they can put anything they want in a beer (peanut butter-flavoured ale, anyone?). Perhaps, given time they will settle down and just make a good tasting beer. In the meantime, I muddle through tours drinking American domestic beers such as Budweiser and Miller, occasionally finding a bar that can keep and pour a decent pint of Guinness. I do confess to having developed a taste for a very old beer called Hamm's. But after two and a half months on the road I was desperate for a pint of British Ale.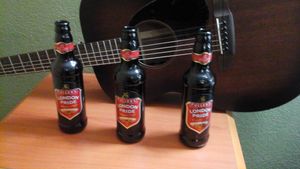 London Pride
So imagine my delight when I saw a bottle of London Pride made by west London brewers Fullers sitting in one of the chiller cabinets behind the bar. At first I thought I was hallucinating. But no, there were six of these little beauties lined up behind one another. They are all mine I told the barman. "No problem," he said, "They've been here a while. Nobody else wants them." Reader, I drank them all. 
The cafe closed at midnight so Devin and I headed to a nearby bar. He introduced me to a Texas ritual of drinking Jameson whiskey and Lone Star beer together. The bar had an open mic night that was in full swing and we both ended up getting up to play. I just about recall that the end of the evening got quite messy.